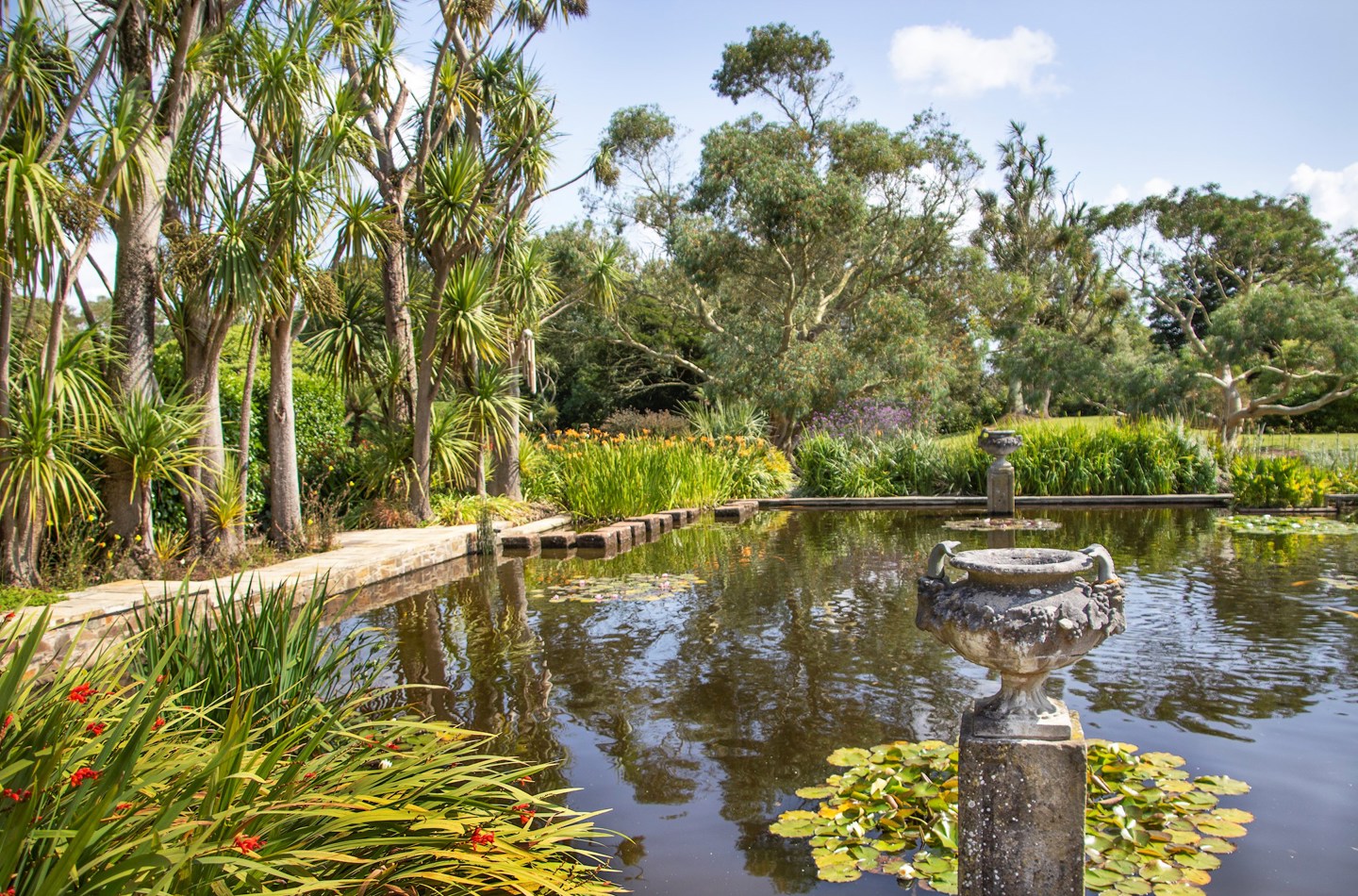 Logan Botanic Garden
Visit Scotland's most exotic garden, a paradise where plant treasures from South and Central America, Southern Africa and Australasia thrive.
Explore Logan

Take a walk in paradise at five star Logan Botanic Garden and discover plant treasures rarely seen in the United Kingdom.

Located on the south-western tip of Scotland, Logan enjoys an almost subtropical climate.  The Garden's avenues and borders feature a spectacular and colourful array of half-hardy perennials.  The Garden is warmed by the Gulf Stream which enables plants from Australia, New Zealand, South and Central America and Southern Africa to thrive.   Garden features include:

Palm Trees and Tree Ferns - These striking plants form an antipodean forest and create an exotic spectacle for visitors to enjoy.

Eucalyptus and Giant Gunnera - Visitors can walk through groves of eucalyptus or stand in the shade of awesome giant rhubarb-like gunnera.

The Walled Garden - A showcase for exotic plants and the fish pond, adorned with water lilies, adds to the air of tranquility. 

Logan Conservatory - The elegant Victorian-style Logan Conservatory houses a range of particularly tender exotic plants from South Africa.  It is the first all-green Glasshouse in the UK.

Guided Walks are held on the second Tuesday of every month from March until November at 10.30am-12pm. From June-September there is also a guided walk on the fourth Tuesday of every month. Meet at the Discovery Centre. Free with normal garden entry. No booking required.  

A visit to Logan will fascinate garden and plant enthusiasts and is also ideal for those who simply want to stroll in natural surroundings and enjoy the peace and quiet. 

Logan constitutes a specialised part of the Royal Botanic Garden Edinburgh's Living Collection which is grown and maintained for the enjoyment of visitors and also supports internationally important scientific research, education and conservation. 

The Garden dates back to 1869. A century later, in 1969, after it was gifted to the nation, it became Logan Botanic Garden, a regional Garden of the Royal Botanic Garden Edinburgh and celebrated its 50th anniversary in 2019.

For more information about Logan's Living Collection and further detail about the Garden's cafe, the Potting Shed Bistro and accessibility, please see below.

Logan Botanic Garden is proud to be taking part in the Silent Space Scheme.

Logan Botanic Garden is located near Stranraer, in Dumfries & Galloway. Get directions.

 

Visitor information

Garden Open daily from 1 March - 15 November.

1 March to 31 October 10am to 5pm
1-15 November 10am to 4pm
Weekends in February 10am to 4pm
Potting Shed Bistro open until 15 November 10.30am-4pm. (10.30am-3.30pm from 1-15 November & weekends in February)

Admission:  

Gift Aid price*: Adult £8.00, Concession £7.00, Child (15 and under) Free.

Without donation: Adult £7.20, Concession £6.30, Child (15 and under) Free. 

* By adding a voluntary donation to your ticket price you help support RBGE's vital science and conservation work. If you are a UK taxpayer and add a donation of at least 10%, we can claim Gift Aid on the whole amount you pay.

Free entry for RBGE Members.

Please note we have no connection or affiliation to Logan House Garden which is a separate property. Trained assistance dogs only.

Group rates (11+ people) £5.70. Call 01776 860231 to pre-book for groups.

 

Video: Explore the Garden
Read video transcript

Video Transcript

| Time | Description |
| --- | --- |
| [captions] | [logo] Royal Botanic Garden Edinburgh at Logan |
| | A garden where plants from the southern hemisphere thrive. |
| | Madeiran rowan, Sorbus maderensis, one of the rarest trees in the world |
| | Magnolia sapaensis, vulnerable in the wild |
| | Logan is a safe place for hundreds of threatened species |
| | [plant label] Rhododendron kanaehirae, Conservation status: extinct in the wild |
| | The Aeonium border, many species are vulnerable in the wild |
| | Butia capitata, probably the most northerly planting on the planet |
| | The Logan Conservatory, home to especially tender plants from South Africa, including a collection of pelargoniums |
| | Coastal tree broom, Chordospartium muritai, found only in New Zealand...critically endangered in the wild...conserved at Logan |
| | Logan Botanic Garden, plant conservation in Scotland, for the world |

More Information
Photography

Visitors are very welcome to take photographs and short videos in the Garden for personal use. All filming and photography for commercial use is by permit only; please check the Media and Commercial Photography page.

Garden Regulations

Logan Botanic Garden is a precious museum of living plants.  The Garden's team has a duty to protect the Collection.  Therefore, please note our regulations:

Assistance animals that are highly trained are welcome at the Garden. However all other pet animals will not be able to access the grounds
Children under the age of 14 must be accompanied by an adult
We do not allow bicycles, scooters, frisbee, kites, footballs, mechanically-operated toys and models or drone cameras for personal use into the Garden 
No jogging or running is permitted inside the grounds

Also as part of our rules and regulations, visitors are not permitted to:

pick, cut or destroy any flower or part tree, shrub or plant
bring into the Garden any flowers or plant life
bring any package or other article or container after being requested by the staff not to do so
climb any tree, railing, fence or structure
enter any part of the Garden after having been requested by Garden staff not to do so or in contravention of any notice or sign displayed at any part of the grounds or remain in any part of the Garden after having been requested by staff to leave it
behave or be clothed, whilst in any part of the Garden, in a manner reasonably likely to offend against public decency
fish, bathe or swim in any part of the Garden
collect or solicit money in the Garden

Acts for which written permission is required:

Undertake any trade or business in the Garden
Sell or distribute anything or offer anything for sale or hire
Exhibit or affix any notice, advertisement or other written or pictorial matter or give any display, performance or representation
Play or cause to be played any musical instrument in any part of the Garden
Make or give any public speech or address
Take, in any part of the Garden, photographs for commercial purposes
Play any game or engage in any form of sport of physical exercise in the Garden
Light a fire or discharge any firearm, firework or other weapon or missile

 

 

 

 

Getting there

Logan Botanic Garden is located 14 miles south of Stranraer in the Rhins of Galloway, off the A716 and the B7065.

Train: the closest railway station is Stranraer served by Scotrail

Bus: the 407 Stagecoach bus from Stranraer stops at the end of the road in to Logan Botanic Garden. Please ask the driver to stop at the road end.

Address: Port Logan, Stranraer, Dumfries and Galloway DG9 9ND

Contact the

Visitor Welcome Team at Logan

If you have any queries relating to visitor facilities, please call us on +44 (0) 1776 860 231 or get in touch by using the enquiry form.

 

Get in Touch

Help us to flourish
There are different ways to support RBGE, choose the way which best suits you. Support us by being a Gift Aid visitor or by becoming a Member and enjoy many exclusive benefits.

Support us