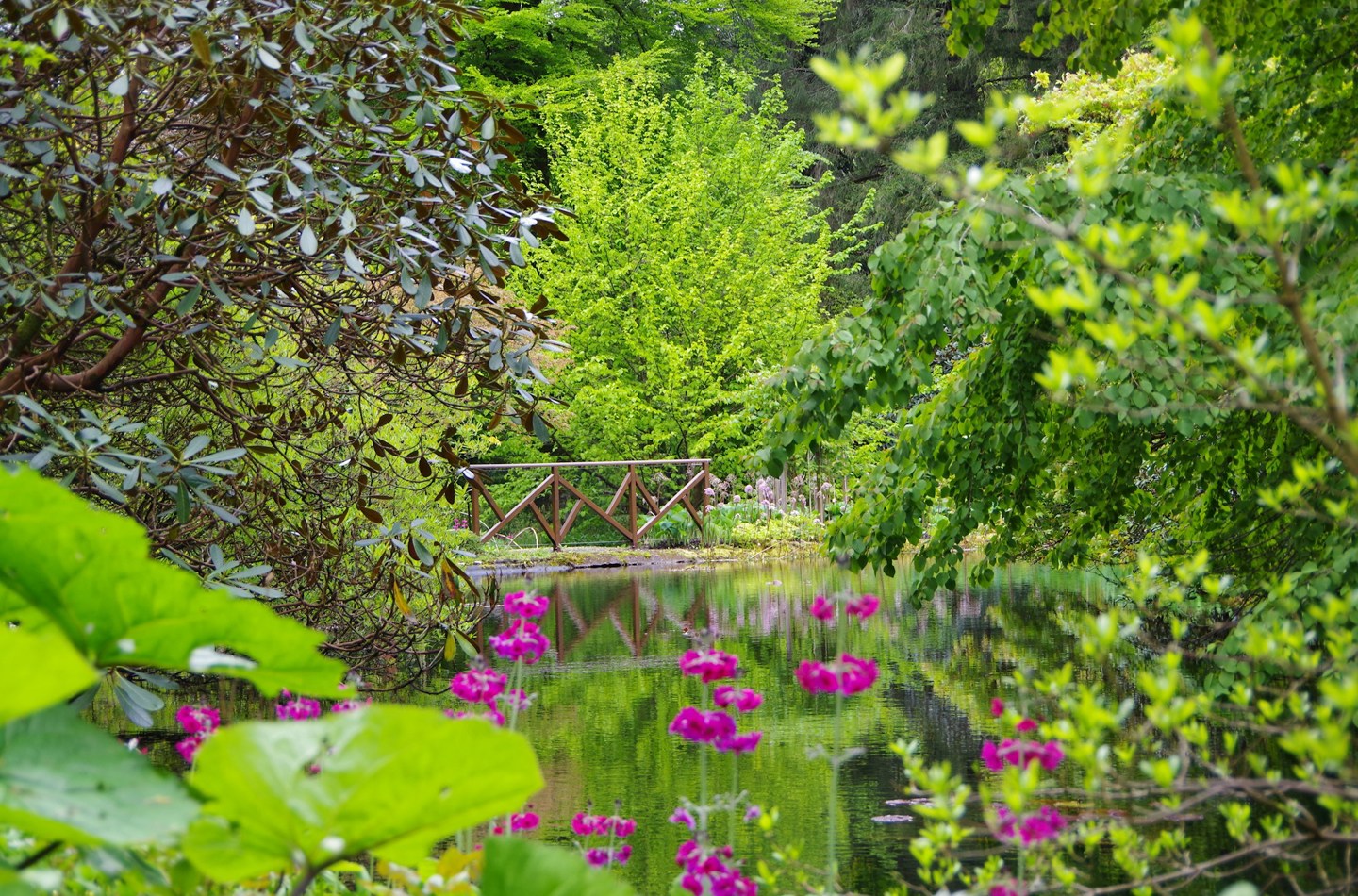 Benmore Botanic Garden
Benmore is a magnificent 120-acre mountainside Garden surrounded by the dramatic scenery of Argyllshire. Steeped in history, Benmore is home to a world-famous collection of plants.
Explore Benmore

For true drama visit Benmore Botanic Garden, renowned for its fine collections of rhododendrons and conifers grown to immense stature in a mountain landscape. 

Benmore's 120 acres are home to a world-famous collection of plants from regions ranging from the Himalaya, China and Japan to North and South America. Other Garden features include:

Giants of Benmore

You will be welcomed through the 150 year old Redwood Avenue, one of the finest entrances to any botanic garden. The towering giant redwoods are awe-inspiring as are many other trees at Benmore including the Douglas fir, Scots pines and Monkey puzzles. 

A Riot of Rhododendrons

In the spring and early summer months, Benmore's slopes are alive with brilliant reds, shocking pinks and papery whites as its unique and world-leading rhododendron collection blooms.  This spectacular display comprises over 300 species arranged by botanical grouping and geographic origin.

Spectacular Views

Energetic visitors can enjoy an ascent to a spectacular viewpoint at 137 metres (450 ft) to enjoy views of Holy Loch and the neighbouring mountains.  See the traditional Bhutanese and Chilean pavilions along the way.  On lower ground, accessible to all, enjoy the splendour of the Golden Gates dating back to 1878 and the serenity of the Pond.

Wildlife

A walk through Benmore can bring close encounters with red squirrels, sparrowhawks and the occasional Golden Eagle. The Wildlife Hide is the ideal spot to watch out for wildlife.

Victorian Fernery

On the hillside, a winding path leads to the Fernery. Amidst rocky cliffs, this beautiful Victorian structure provides a dazzle of light, space and lush greenery. Ferns sprout from rocks in delicate feathery fountains, creep along the ground and cascade down walls.

Discover more about Benmore's globally important plant collection.

Visitor information

Opening hours

Open daily from 1 March - 31 October, 10am - 5pm

The Fernery opens at 11am and closes one hour before the Garden.

Admission

Gift Aid price*: Adult £8.00, Concession £7.00, Child (15 and under) Free.

Without donation: Adult £7.20, Concession £6.30, Child (15 and under) Free. 

Free entry for RBGE Members.

* By adding a voluntary donation to your ticket price you help support RBGE's vital science and conservation work. If you are a UK taxpayer and add a donation of at least 10%, we can claim Gift Aid on the whole amount you pay.

Group rates (11+ people) £5.70. Call 01369 706261  to pre-book.

 

Explore the Garden
Read video transcript

Video Transcript

| Time | Description |
| --- | --- |
| | A globally important plant collection |
| | The Redwood Avenue. 49 giant redwoods, Sequoiadendron giganteum. 50m high, 150 years old, at risk from climate change. |
| | Benmore's conservation work is vital. |
| | The Chilean Hillside. A safe site for hundreds of monkey puzzles Araucaria Araucana and other threatened conifers. |
| | Rare plants from as far afield as Bhutan…and Japan…. |
| | Benmore showcases the world of Rhododendrons. 3000 plants from over 300 species. Today, a third of Rhododendrons are threatened with extinction. |
| | Benmore Botanic Garden plant conservation in Scotland for the world. |
 
More Information
Photography

Visitors are very welcome to take photographs and short videos in the Garden for personal use. 

All filming and photography for commercial use is by permit only: please contact the Garden at benmore@rbge.org.uk or call 01369 706 261.

For Commercial Photography, please check the Media and Commercial Photography page.

 

Garden Regulations

Benmore Botanic Garden is a precious museum of living plants.  The Garden's team has a duty to protect the Collection.  Therefore, please note our regulations:

We do not allow bicycles, scooters, frisbee, kites, footballs, mechanically-operated toys and models or drone cameras for personal use into the Garden 
No jogging or running is permitted inside the grounds
Assistance animals that are highly trained are welcome at the Garden.
Children under the age of 14 must be accompanied by an adult

Also as part of our rules and regulations, visitors are not permitted to:

pick, cut or destroy any flower or part tree, shrub or plant
bring into the Garden any flowers or plant life
bring any package or other article or container after being requested by Garden staff not to do so
climb any tree, railing, fence or structure
enter any part of the Garden after having been requested by Garden staff not to do so or in contravention of any notice or sign displayed at any part of the grounds or remain in any part of the Garden after having been requested by staff to leave it
behave or be clothed, whilst in any part of the Garden, in a manner reasonably likely to offend against public decency
fish, bathe or swim in any part of the Garden
collect or solicit money in the Garden

Acts for which written permission is required:

Undertake any trade or business in the Garden
Sell or distribute anything or offer anything for sale or hire
Exhibit or affix any notice, advertisement or other written or pictorial matter or give any display, performance or representation
Play or cause to be played any musical instrument in any part of the Garden
Make or give any public speech or address
Take, in any part of the Garden, photographs for commercial purposes
Play any game or engage in any form of sport of physical exercise in the Garden
Light a fire or discharge any firearm, firework or other weapon or missile

Silent Spaces

Getting there

Benmore Botanic Garden is set within the Loch Lomond & the Trossachs National Park and the Argyll Forest Park, on the A815 seven miles north of Dunoon on the Cowal Peninsula.

Caledonian MacBrayne (for passengers) and Western Ferries (for cars and passengers) both sail from Gourock to Dunoon. The journey time is approximately 20 minutes. Western Ferries offer a discount on ferry tickets purchased in advance of travel, their most popular range of tickets for passengers and vehicles up to 5m in length can be purchased at the following:

Greenock - The Co-operative Food, 21 Eldon Street PA16 7UG.  Tel 01475 727762
Gourock - Paul's Food & Wine, 94 Shore Street PA19 1RB. Tel 01475 630997.

West Coast Motors operates a regular bus service to the Garden from Dunoon (01586 559 139).

A Sunday shuttle service runs between Dunoon and Benmore Botanic Garden, call 07913 601442 for details.

Address: Dunoon, Argyll PA23 8QU

Contact the

Visitor Welcome Team at Benmore

If you have any queries relating to visitor facilities, please call us on +44 (0) 1369 706 261 or get in touch by using the enquiry form.

Get in Touch
 
Help us to flourish
There are different ways to support RBGE, choose the way which best suits you. Support us by being a Gift Aid visitor or by becoming a Member and enjoy many exclusive benefits.

Support us