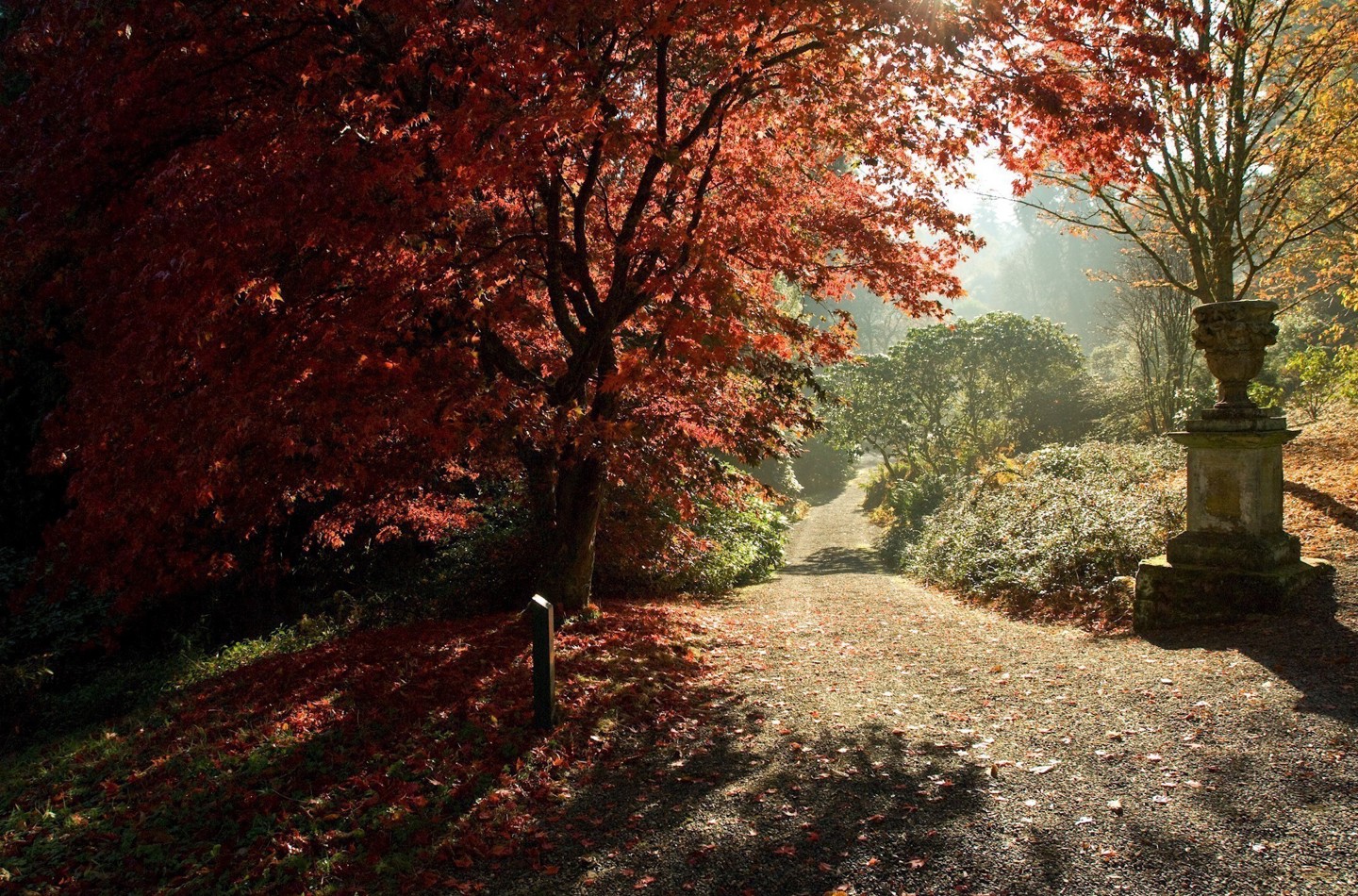 Dawyck Botanic Garden
Nestled in the picturesque Scottish Borders, Dawyck is home to one of Scotland's finest tree collections and to an abundance of plant treasures from Nepal, Chile, China and more.
Explore Dawyck

Dawyck Botanic Garden is a five star Garden renowned for its seasonal displays of snowdrops, bluebells, rhododendrons, azaleas, blue poppies and autumn colour.

Located in the hills of the Scottish Borders, 65-acre Dawyck enjoys an almost continental climate comprising warm dry summers followed by cold, snowy winters.  Plants from the mountainous regions of Europe, China, Nepal, Japan and North America thrive here.  Garden features include:

Heritage Trees:  Dawyck has one of Scotland's finest tree collections including some of Britain's oldest and tallest trees, dating back to 1680.  Look out for Douglas fir, European Silver fir and Giant Sierra redwoods.

Azalea Terrace: This historic terrace is a blaze of colour when azaleas bloom in May and June.

Blue Poppies:  The meconopsis, a Himalayan native, thrives in Dawyck's conditions and a carpet of blue flowers appears under the tree canopy in early June.

Heron Wood Reserve: The Cryptogamic Sanctuary is the world's first reserve for mosses, liverworts, lichens and fungi.

Snowdrops:  Delicate Galanthus cover the banks of the Scrape Burn in February.

Dawyck offers woodland and burnside walks, themed tree trails and visitors can follow the adventures of plant explorers such as David Douglas, after whom the Douglas fir is named.

Many of the plants at Dawyck are the first examples collected and brought to Scotland. The Garden has now become a sanctuary for endangered plants, a collection not only for conservation and study, but, as originally intended, a place of beauty to be enjoyed. Find out more about Dawyck's Living Collection

Visitor information

Opening times


Open daily from 1 February - 30 November

March to October:

10am - 5pm (last entry 4.15pm)

February and November:

10am - 4pm (last entry 3.15pm)

Admission

Gift Aid price*: Adult £8.00, Concession £7.00, Child (15 and under) Free.

Without donation: Adult £7.20, Concession £6.30, Child (15 and under) Free. 

* By adding a voluntary donation to your ticket price you help support RBGE's vital science and conservation work. If you are a UK taxpayer and add a donation of at least 10%, we can claim Gift Aid on the whole amount you pay.

Free entry for RBGE Members.

Group rates (10+ people) £5.70. Call 01721 760254 to pre-book.

 

 

Explore the Garden
Read video transcript

Video Transcript

| Time | Description |
| --- | --- |
| | [captions] |
| | A world renowned arboretum, home to some of Britain's oldest and tallest trees. |
| | Silver fir, Abies alba, Dawyck's oldest tree, nearly 350 years old |
| | Dawyck beech, Fagus sylvatica, over 170 years old |
| | Multi-stemmed Douglas fir, Pseudotsuga menziesii, over 180 years old |
| | Dawyck's continental climate enables plants from as far afield as Nepal, China and Chile to thrive |
| | Azaleas, Meconopsis the Himalyan blue popy, Rhododendrons, many threatened in their native habitats |
| | The Garden is alive with lichens |
| | Sicilian fir, Abies nebrodensis, critically endangered in the wild, conserved at Dawyck |
| | New plantings are creating future generations of trees. |
| | Dawyck Botanic Garden, plant conservation in Scotland for the world. |

More Information
Photography

Visitors are very welcome to take photographs and short videos in the Garden for personal use. All filming and photography for commercial use is by permit only; please check the Media and Commercial Photography page.

Garden Regulations

Dawyck Botanic Garden is a precious museum of living plants.  The Garden's team has a duty to protect the Collection.  Therefore, please note our regulations:

We do not allow bicycles, scooters, frisbee, kites, footballs, mechanically-operated toys and models or drone cameras for personal use into the Garden 
No jogging or running is permitted inside the grounds
Assistance animals that are highly trained are welcome at the Garden. However all other pet animals will not be able to access the grounds
Children under the age of 14 must be accompanied by an adult

Also as part of our rules and regulations, visitors are not permitted to:

pick, cut or destroy any flower or part tree, shrub or plant
bring into the Garden any flowers or plant life
bring any package or other article or container after being requested by the staff not to do so
climb any tree, railing, fence or structure
enter any part of the Garden after having been requested by Garden staff not to do so or in contravention of any notice or sign displayed at any part of the grounds or remain in any part of the Garden after having been requested by staff to leave it
behave or be clothed, whilst in any part of the Garden, in a manner reasonably likely to offend against public decency
fish, bathe or swim in any part of the Garden
collect or solicit money in the Garden

Acts for which written permission is required:

Undertake any trade or business in the Garden
Sell or distribute anything or offer anything for sale or hire
Exhibit or affix any notice, advertisement or other written or pictorial matter or give any display, performance or representation
Play or cause to be played any musical instrument in any part of the Garden
Make or give any public speech or address
Take, in any part of the Garden, photographs for commercial purposes
Play any game or engage in any form of sport of physical exercise in the Garden
Light a fire or discharge any firearm, firework or other weapon or missile

Getting there

Dawyck Botanic Garden is 28 miles south of Edinburgh on the B712, eight miles from Peebles near Stobo village in the Scottish Borders.

By Car: The Garden entrance is clearly signposted. There is a large car park and designated parking for coaches and minibuses.

By Bus: Border Buses service x62 runs between Edinburgh and Peebles (journey time 1.25 hrs).  Borders Buses service 91 runs between Peebles, Stobo and Biggar and stops outside the Garden on request. For more information, visit Border Buses website.

By Taxi: There is a taxi rank at Eastgate, Peebles outside the Post Office, near the bus stop.

By Bike: There are bicycle stands in the car park. Find a National Cycle Network route

Coach drivers, please note that, due to the narrow entrance, easiest access is advised from the west (Drumelzier).

Address: Stobo, near Peebles, Scottish Borders EH45 9JU

Contact the

Visitor Welcome Team at Dawyck

If you have any queries relating to visitor facilities, please call us on +44 (0) 1721 760 254 or get in touch by using the enquiry form.

Get in Touch

Help us to flourish
There are different ways to support RBGE, choose the way which best suits you. Support us by being a Gift Aid visitor or by becoming a Member and enjoy many exclusive benefits.

Support us