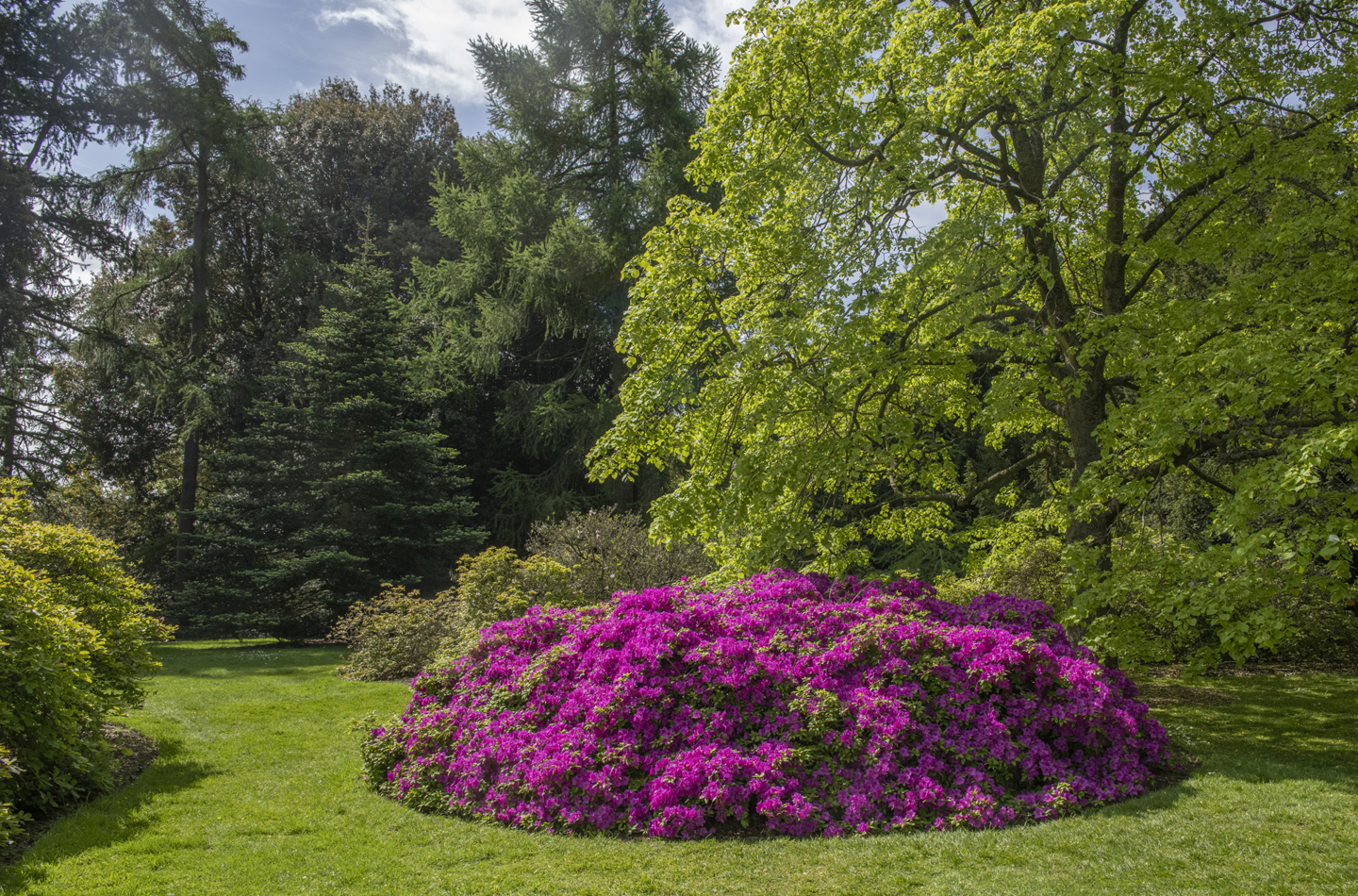 Logan welcomes all visitors and aims to provide the best possible access to everyone in order that they enjoy their visit whatever their specific requirements.

Logan provides:

A map with designated route for wheelchair and mobility scooter users
One accessible toilet near the Garden entrance
Two wheelchairs and mobility scooters for visitors to use free of charge
Many benches at regular intervals throughout the Garden
Water for assistance animals
Pen, paper and magnifying glass at our reception desk

Please download our Access Guide (word doc) for more information.

If you require any further information about specific access or need advice about planning your visit please contact us on: +44 (0) 1776 860231 or email us at logan@rbge.org.uk
Information on arrival

There is a welcome panel in the car park outside the entrance which gives further visual information about the Garden. The panel shows the location of the accessible toilet and also confirms that assistance dogs are welcome in the Garden. However, if you have further questions, please just ask at the Reception area beyond. There is a designated route for wheelchair and mobility scooter users. A map is available on arrival with this route clearly marked.

The Garden's reception and information desk is located approximately 20 metres from the car park on the left, accessed by a wide route which is mostly level with a slight incline of 1:20. The door to the reception and shop is 1040mm clear opening with a small threshold of about 15mm at the entrance.

There are two manual wheelchairs and a mobility scooter to borrow. To ensure availability, please call us to book these in advance of your visit on +44 (0) 1776 860231 or email logan@rbge.org.uk.

Logan's reception area is accessible to wheelchair and mobility scooter users, and there is a hearing loop available. A warm welcome is guaranteed at the information desk where you can buy your admission ticket. Concessions are available and carers go free.

 

The Garden

Logan Botanic Garden is an exotic paradise, home to plant treasures from South and Central America, Southern Africa and Australasia rarely seen in the United Kingdom. Here, visitors can enjoy groves of palm trees and eucalyptus as well as giant rhubarb-like gunnera plants. The Walled Garden is a showcase for exotic plants and the fish pond, adorned with water lilies, adds to the air of tranquillity.

Much of the Garden is flat and level. However, there are some paths at Logan which are steep and inaccessible for disabled visitors. These include the terrain at upper levels, including gradients of 1:5 – 1:7 leading to the Australasian Collection and Chilean Collections, and the stepped route up to the Woodland Garden. Also, assistance may be required for manual wheelchair users to reach the Tasmanian Creek and Viewing Platform.

Much of the Garden is flat and level with footpaths generally comprising of compacted gravel. These paths are mostly wide and level. A range of bench seating is provided at regular intervals around the Garden in all locations. These provide visitors with an opportunity to take a break and rest with their companions.

The Logan Conservatory

The Logan Conservatory is open and is operating a one-way system to protect visitors.  Please adhere to physical distancing guidelines.

The elegant Logan Conservatory houses a range of especially tender plants from Southern America and Southern Africa.

The Logan Conservatory is accessible to wheelchair and mobility scooter users. Please note that there is a gradient of up to 1:12 leading up to the Conservatory and some manual wheelchair users may require assistance to gain access. Within the Conservatory, doors have a minimum of 875mm clear opening.

New for the 2018 season is a path at the rear of the Logan Conservatory which will have both wheelchair and mobility scooter access, completing the accessible route at the Garden.

Discovery Centre and Logan Studio

These spaces are where Logan Botanic Garden presents videos and exhibitions, often with an environmental theme. There are tactile objects such as flower heads and cones for visitors to touch.

There are external doors, 750mm clear, providing access to both the Discovery Centre and Logan Studio which are both at ground level. There is a slight incline leading into the Discovery Centre.

The Discovery Centre and Studio adjoin via a doorway inside where there is a 190mm high step with nosing.

There is also a spiral staircase inside the Discovery Centre which leads to an upper exhibition gallery which is inaccessible to wheelchair and mobility scooter users. Note that upstairs the ceilings are slanted and low so visitors must mind their heads.

The Potting Shed Bistro

The award-winning Potting Shed Bistro is accessed through a gate with a 900mm clear opening. The doors to and from the Bistro are 800mm clear opening.

There is a one-way system in place.  Cashless payment is preferred.

There are large print menus available and our staff are happy to read out the menu.

Bistro staff are on hand to provide assistance should visitors have any specific dietary requirements, allergies or food intolerances.

The Logan Shop

There is a shop in the reception area as you enter and exit Logan Garden. It offers a wide range of quality gifts, souvenirs, books and plants.

The shop is currently operating a one-way system.  Please observe physical distancing guidelines.

Features of the shop:

Step free access and spacious placement of shop fixtures to allow ease of movement for wheelchairs and motorised scooters.
The outdoor plant area is accessed through doors at the rear of the Visitor Centre.
The shop is evenly and well lit.
There is a hearing loop at the till point, a magnifying glass, pen and paper.
Our shop staff are always on hand to offer assistance.

Plant Sales

Logan provides an outdoor plant sales area, accessed via its shop. Plants are displayed at a height that wheelchair users can see. The door to the plant sales area is 1040mm clear opening and there is a threshold of about 30mm at the doorway. Wheelchair users may require assistance at this doorway. Our shop staff are happy to offer assistance.

Electric vehicle charge point and water bottle refill

In 2018 an Electric Vehicle Charging point was installed; it is a double 7KW charge point and is free for visitors to use.

The Garden is also part of D & G Refill and provides a tap for people to refill their water bottles in order to reduce plastic waste.

Hearing Loops

A permanent Induction Loop is fitted at the reception information desk. Please ask for assistance if you require it.

Mobile Reception and Wifi

Visitors with medical conditions should be aware that mobile signal is extremely limited at Logan but there is some signal in the Garden itself. If you require assistance, please ask at the reception. Free visitor wifi is available in the Potting Shed Bistro.

Accessible Toilet

There is an accessible toilet in the public WC building near the Garden entrance. Entry is easiest from the outside of the building. Note that there is a slight incline to the entrance. Doors to the WC are 800mm clear opening with a 1200mm clear space opposite the door.

Three steps leading down to the WCs from the Potting Shed Bistro make access from the restaurant a challenge for disabled visitors. Note that these steps have highlighted nosings and a handrail to one side.

There are a number of other accessible toilets in Stranraer, 14 miles away from Logan Botanic Garden, including a unisex accessible toilet at Stranraer railway station.

The nearest Changing Places WC is in Newton Stewart. For further information, please visit www.changing-places.org.

Assistance Animals

Assistance animals that are highly trained are welcome at the Garden. For more information, please read our Assistance Animal Policy for Visitors.

Bowls of water are available on request in the restaurant.

A final word about the weather

Please note that in severe weather conditions the Garden closes for safety reasons. You are welcome to call us to check that the Garden is open on 01776 860231. Visitors are recommended to take extra care outside when exposed to weather conditions such as wind and rain.